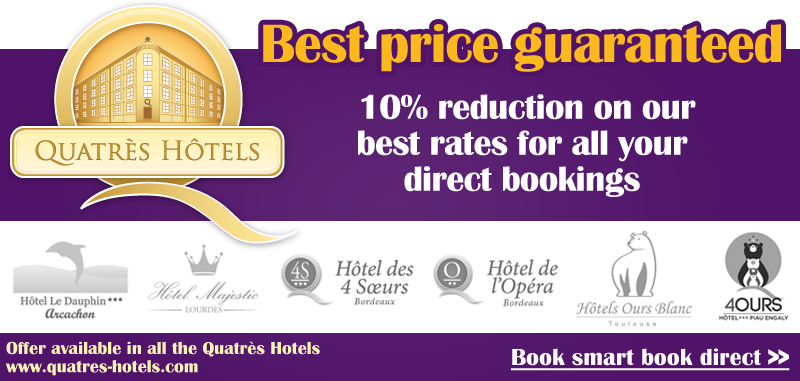 Hotel des 4 Soeurs*** and Hotel de l'Opéra** in the heart of Bordeaux
At the 4 Soeurs and the Opera hotel senjoy a warm and freindly welcome and choose beteween a 3 star or two star room category always in a ideal location in Bordeaux Centre a few meters from the Quinconces and the Bordeaux Opera House
Located between the Bordeaux Opera House and Quinconces
We offer you the choice of our 3 star hotel, the Hotel des 4 Soeurs and our 2 star hotel, the Hotel de l'Opera for an enjoyable stay in the heart of the Bordeaux historic and cultural center.
These two Bordeaux hotels are ideally situated, located between the Opera House called Le Grand Théâtre de Bordeaux and the Place des Quinconces famous for its fountain and size (30 acres). Both are just meters away from the Tram lines and the Tourist Office.
Easy to access, the Hotel des 4 Soeurs and the Hotel de L'Opera a few meters from the Quincones Tram station which links directly to Saint Jean train station, the airport shuttle bus stop and quays which connect to all the major access roads.
Just 20 meters from the Bordeaux Touriste Office
Both hotels are next to the Touriste Office, where at the moment you can get a "City Pass" a great way to travel and visit the best of Bordeaux and the surrounding area.